The hand is the most frequently affected part of the body in occupational accidents. According to various statistics from professional associations worldwide, about one third of all accidents at work involve hand injuries. We show you how you can protect your hands with the right tools.
According to the U.S. Bureau of Labor Statistics (BLS), each year more than 1 million workers are sent to the emergency room for serious hand injuries. This is enough to give some thought to the prevention of hand injuries. Prevention is also important because it works: With the right approach, hand injuries are almost completely preventable. So, we have a big problem and there is a solution. Even better, the solution is not difficult or costly, especially considering the cost of hand injuries, which are horrendous.
There are direct costs such as medical care, physiotherapy, paid leave and increased insurance premiums. And there are indirect costs such as pain and suffering, reduced morale and productivity disruptions. Hand injuries are not only critical for everyday life and work tasks, but also difficult to repair and heal. This is because they are neuromuscularly complex and involve many small, complicated parts. Even a relatively small cut can cause major problems.
Types of hand injuries
The most common causes are lacerations and punctures caused by cutting tools. With a proper safety knife which has an automatic blade retraction, this type of injury can be massively reduced.
Other common injuries are:
smashed, crushed or squashed fingers
overstress
abrasions and burns
effects of impacts and falls
These hand injuries occur mainly on construction sites, in industry and especially during maintenance work. Wherever heavy equipment is used, or you have to deal with large forces and levers.
Preventing hand injuries
Follow these points to avoid hand injuries: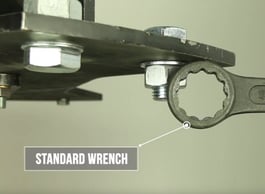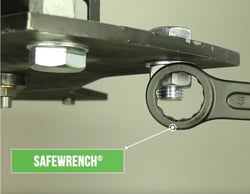 1. Use the right tool

Not only the choice of the right tool for a job is decisive, but also the condition of the tool can have fatal consequences.
The problem with a standard hammer-wrench is that you are forced to hold it by hand so that it does not come loose from the nut. For large nuts, which are difficult to loosen, the wrench is hit with a large hammer. The wrench is held with one hand on the nut, the other hits with the hammer. This can lead to devastating hand injuries. The Safewrench from AMPCO Safetytools holds on to the nuts independently so that the worker can operate the hammer with both hands.
2. Wear protective clothing
Most hand injuries are the result of not wearing gloves or wearing the wrong gloves for work. Ensure that employees have access to quality gloves that fit well and are suitable for the job. Establish a zero-tolerance policy to overlook this safety protocol.
3. Sensitisation
Raising awareness requires a two-pronged approach: workers need to be aware of the potential risks and how to avoid them. They also need to be aware of their environment and how they move through it. Common causes of injuries in the workplace are distraction, fatigue or disregard. Encourage workers to always be aware of where they place their hands and the potential risks in their environment. Eliminate distractions or hazards such as disorder.
4. Safety Training
The workers must be trained again and again in the handling of tools. The correct handling and use of the tools not only prevent accidents, but also increases quality and productivity. Once is not enough: The training courses must be repeated again and again and think also of temporary workers or new colleagues that these do not fall through the net.
Conclusion
Safety at work is not a time waster or additional cost. The right tools, the necessary protective clothing, awareness of the risks involved in the individual work steps and periodic training make your company profitable and protect against expensive absenteeism.
Download "The Ultimate Guide for the Appropriate Use of Safety Tools" right now for free: